The Constitution of Montenegro was approved on October 20, 2007. According to the first article of the Constitution, Montenegro is an independent, democratic and environmentally compliant state of the social justice ruled by the law. Powers: executive, legislative, judiciary.
The President is elected in direct elections and by secret ballot for a term of office of five years. Verbally the President is not a representative of executive, legislative and judiciary powers.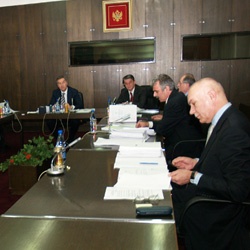 Legislative power is represented by a unicameral Parliament called Skupština that consists of 81 deputies. The deputies are elected by direct ballot voting. Skupština is elected for a four-years term.
Executive power is exercised by the Government (Vlada). It is approved by Skupština in accordance with President's suggestions.
Judiciary power consists of two levels. The uniformity of adoptive rules on the territory of the republic is provided by Montenegro Supreme Judicial Court.
Along with the judiciary system the protection of the constitutionality is secured by the Constitutional Court of Montenegro.