There are two international airports in Montenegro, those are situated in Tivat and Podgorica. You can also come to Montenegro via the airport of Dubrovnik, the city is situated just 22 km from the Montenegrin Herceg-Novi. The national airlines Montenegro Airlines have regular flights to Budapest, Belgrade, Zurich, Vienna, Frankfurt, Roma, Ljubljana, London and Paris.
Once a week (every Saturday) the Russia airlines Siberia have the flight Moscow – Podgorica – Moscow. In April there begins charter communication operated by the airlines of Russia and Ukraine (the flights from Moscow, St. – Petersburg and Kiev).
To get the airport or to get to the city by taxi will cost you 45 EUR. The airport tax in Montenegro is 15 EUR.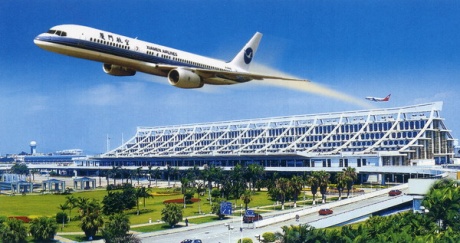 MONTENEGRO AIRLINES
81000 Podgorica, Beogradska 10 tel:+381 (0)81 405-500, 405-501 Web: www.montenegro-airlines.com
PODGORICA AIRPORT
The Golubovsy Airport is situated 12 km from Podgorica, 80 km from Kolashin, 170 km from Zhablyak, 62 km from Budva, 12 km from Bar.
Available services:
* currency exchange * cafeteria * restaurants * souvenir shops * tourist agencies * other transportation services (buses to the centre of the city and taxi)
Information: +381 (0)81 243-007 Tourist Agency: +381 (0)81 244-916 Freight service: + +381 (0)81 872-310
TIVAT AIRPORT
The Tivat Airport is situated in 3 km from Tivat, 20 km from Budva, 20 km from Herzeg Novi, 4 km from Kotor, 60 km from Bar.
Available services:
* Public telephones (cards, coins) * souvenir shops * tourist agency * "Duty-Free" * cafeteria * other transportation services (buses to Herzeg Novi and taxi)
Information: +381 (0)82 671550, 671570 Tourist Agency: +381 (0)82 337195