Montenegro Tour - Day 1, "familiarizable"
I have described the start of our trip - tour choosing, flight and arriving to Tivat airport...
..Our bus is leaving Tivat and goes on the road which spreads parallel to runway. Half of an hour ago we had been landing not only right above the mountains covered with differently shaded green carpet, but also right near this road, with the possibility to see drivers in their cars, going somewhere with their own thoughts and goals.
Road to Budva takes about 20mins, during it our "tour operator representative" Marina (nice name;)) talks about a common routine and tells some facts about Montenegro and places we are passing by. One of them was a court where the famous singers like Madonna and Rolling Stones have "blowed up the scene" recently. Actually, nothing special - an abandoned court near one of the beaches named "Jaz", only the posts with pojectors and glass debris distinguish this one among the others. So we go round the next mountain and now we see Budva - a little city, even to say village - lots of palms and among them two-three-floored houses, with traditionally red tiled roofs. The main and the only large street of Budva has a nice look: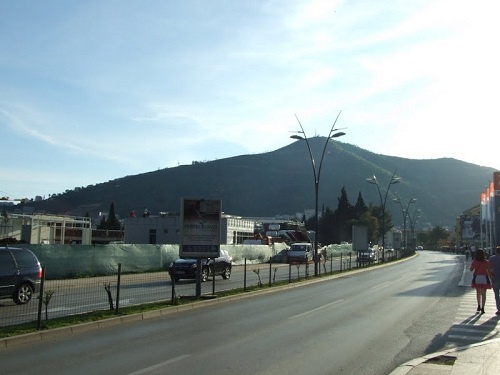 We debark from a bus and taking out our baggage. About 20 people are doing the same - we understand that villa Harmonia is going to host lots of guests for the next days. What surprised us in the first minutes: the cars don't stop near the crosswalk, even when you've already crossed a half of the road! People from Kiev just wanted to walk in front of the cars, but our guide Marina was carefully looking around and waiting - then we understood that it's not common here for drivers to give a way to footpassengers, so we should be aware.
The masters of the villa - a couple Dragan and Stefanija - are very friendly, we chatted with them a bit while they were gathering our accomodation vouchers and writing down our passports' data. Dragan speaks English, but Stefanija speaks only Montenegrin, so Marina had to help a bit. To listen to their speaking was very unusual, but if spoken slowly, we could understand the point, 'cause the language is similar to russian and ukrainian. From them we've found also the simple rules of some letters reading (the letters are latin, but there're some special symbols) and went to our room to leave the suitcase.
Villa Harmonia is a 3-floored house with 2 blocks - A (only rooms with minimum but enough of facilities - bath, TV and teapot with 2 cups) and B (included the same as A, but it were apartments with kitchen and lots of tableware). We lived in the block A, room number A12.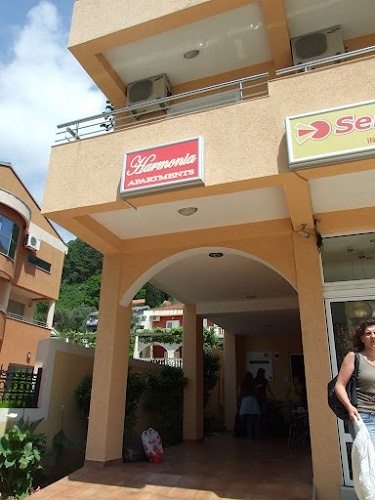 ..In 10 minutes we were already walking to the sea, breathing the fresh air of Montenegro. There're lots of palms on the streets of Budva: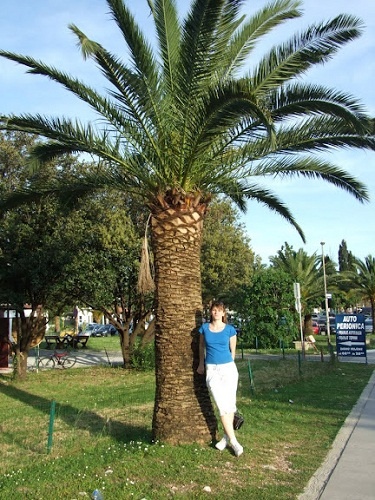 and Mountains surrounding the bay: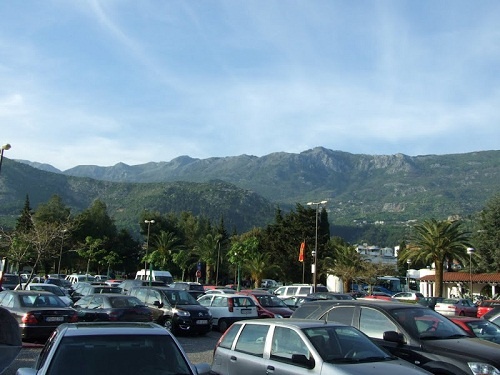 On the seafront lots of stalls with clothes and souvenirs await the tourists. This skirt costed 30 euro:
I... I haven't bought it :)
Finally we've reached the Adriatic Sea. It was about 7 p.m., a bit cold to swim. But of course we've waded in the water. Behind me is an island named Sveti Nikola (Saint Nikola):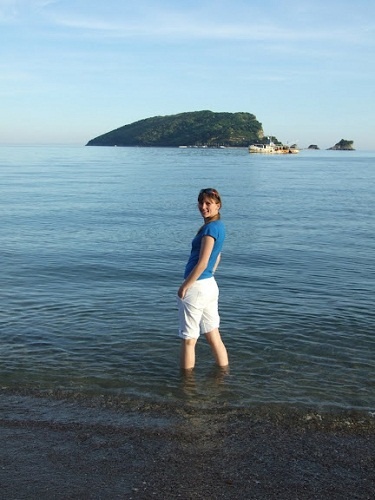 Budva's main beach in the evening: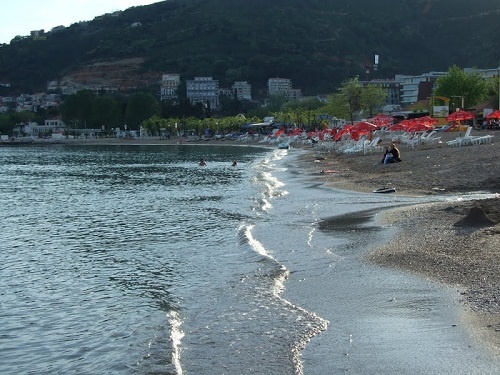 Walking on the seafront we've passed behind such these strange weared "guys":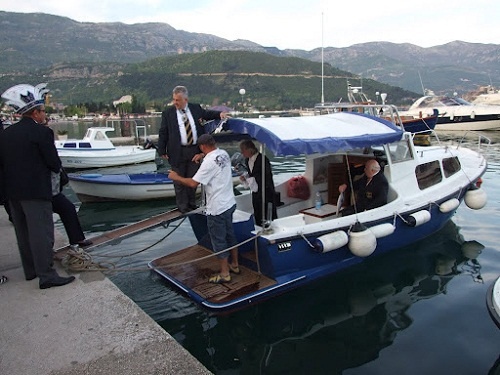 The closer we got to the Stari Grad (Old Town) of Budva, the more people had seemed to be strange weared, and sounds of music were reaching us.. Finally we understood what's happening - a celebration is taking place, lots of childred and even adults were wearing costumes, having fun and watching children dancing in front of the scene: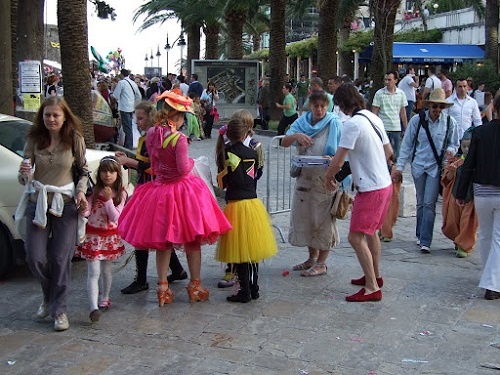 We thought it was something like Fasching in Germany, and after some time spended in the festive crowd we went to the Old city, also dressed up in carnival style: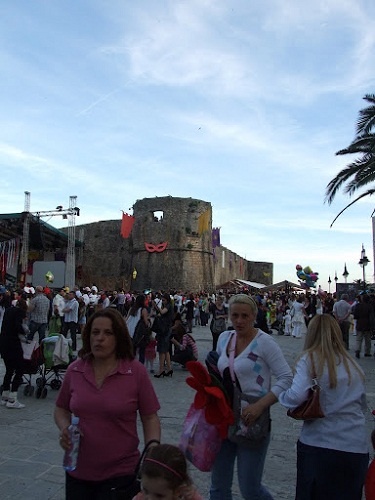 Old city is surrounded with a high walls, but covers not a very big area. What I was suprised with - were very narrow "streets", though I've read about them and have seen enough photos. Maybe it's just because of the atmosphere of the city itself, the houses built in such a way to form these amazing streets, the hundreds-year-old stones, keeping the history inside them and inside the old town: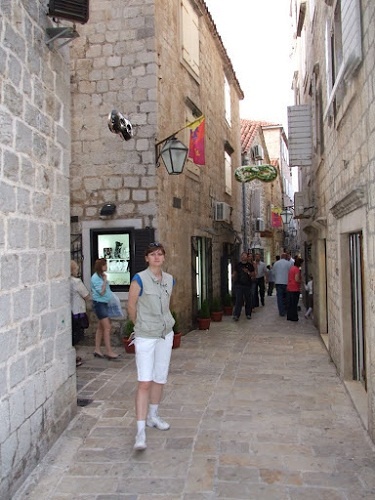 The catholic church at the small square of Old city, whose tower rises over the city - Sveti Ivan crkva (St. John's Church):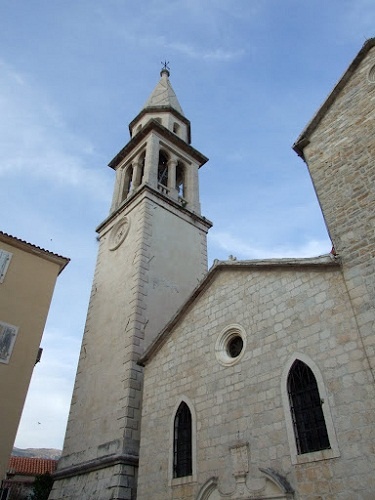 Starting to be hungry we went to the restaurant recommended by our guide Marina - named "Obala", situated out of the Old Town on the seafront. Tasty "Njegushki steak" and "Karajorgevo shnitzel" were too big to eat them fast, that's why we finished them when the sun went down.
Already going home we've noticed the people crowded along the seafront.. and suddenly understood - that's the carnival parade starts!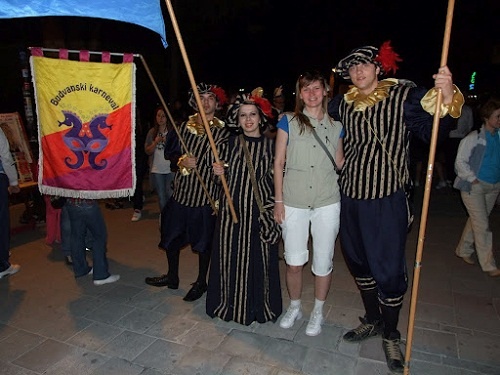 These people's friendliness was so deep, that they have been suggesting to make photos with them: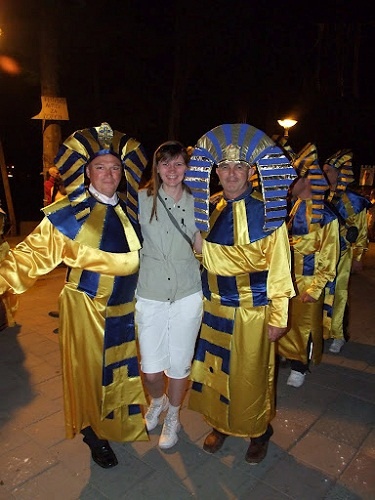 But we have not many photos, we've made a long video :)
They were very funny and interesting - someone drinking beer and smoking cigarettes, some "big men" dancing and twisting different parts of their body :) They've had a look of the people having fun and enjoying the celebation, despite the curious and sometimes strange costumes. So anyone seeing them was smiling and feeling him/herself in front of something good and nice - especially we, for whom the first day of vacation went very good! :)
On the road to the villa we've found a strange but very "maritime" memorial: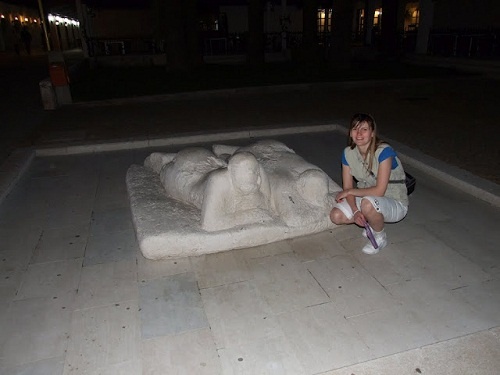 My husband assumed that these guys obtain a water when they behave themselves good. :)
The main street in the evening - almost the red lights district: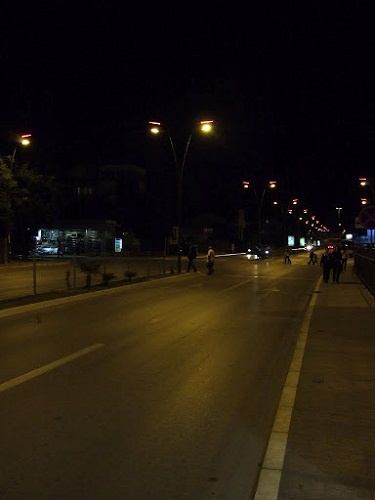 And so we came back to the hotel room, tired but happy. We were so impressed by the nature, views and air freshness, that we considered it a nice idea to rent bikes tomorrow..
http://rom-ashka.livejournal.com/8830.html