Montenegro Tour – Day 2, part 2 – Bikes and Roads
In the first part. I forgot to tell you about one morning event that day. When we went down from our room to take a walk to the Old Town, we've met Marina (tour operator representative, remember?), and asked her maybe she knows where could we rent a bike. She said that we should go to the seafront, there're lots of agencies (as you already know, there wasn't any bike rent there).
Also a man was standing near, and he asked whether we want to go with him and his daughter (they've brought bikes from Ukraine to Montenegro) somewhere round the Boka Kotorska and further. We were curious whether that should be hard, 'cause also croatian Dubrovnik was suggested - and it's 90 km from Budva! He said, it's not a problem, they've made more that 150 km in Kiev region. Finally we almost agreed, but we ought to find bikes first.
At first we wanted to rent bikes for three days, and go to many places around the Budva. But when we saw the bikes our enthusiasm was a bit reduced: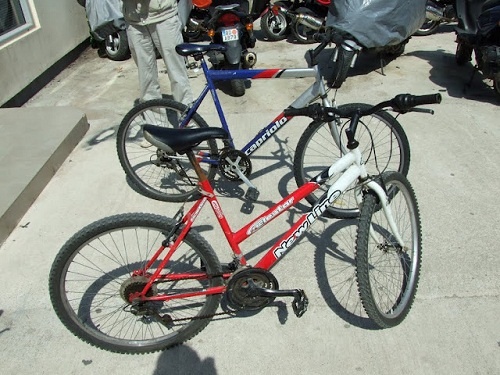 They were a bit older that we could expect, so we've decided to take them for only twenty-four hours. Bike rent cost 10 euro a day, and more 10 euro deposit (actually when you want to rent it for 3 or more days, it would be cheaper to steal it and pay not more than 20 euro )
So we took them and went to the direction of Sveti Stefan island, which was only 6 km from our current coordinates in Budva.
We were moving on the main street of Budva (Jadranski Put), when we saw Marina standing on the sidewalk. She asked where did we manage to rent bikes and suggested us to go by the seafront, 'cause there're too many cars on the streets and they drive dangerously close to bikes, what we have already felt. We considered it a nice idea and went there, but in 5 minutes we foud ourselves against the huge ladder up to the main route - and before us was a huge construction of the company Mirax Group, and there was no way further.
So we turned back and went on the route, going up and down the mountain.. It was very hard, 'cause we were not good enough physically prepared - we don't ride bikes often in Kiev, so sometimes we walked holding the bikes up the hill, and cars and trucks swept past, not very caring about distance while bypassing us.
In half an hour we've reached a little church and trunk a bit water from their drinking fountain: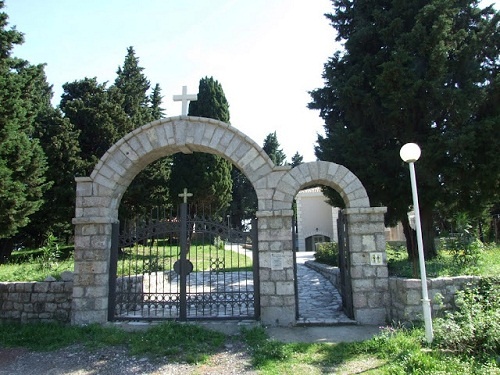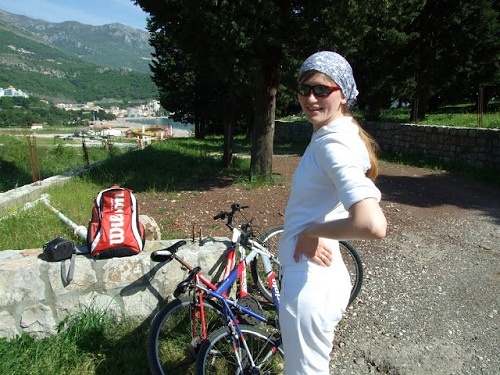 And went further: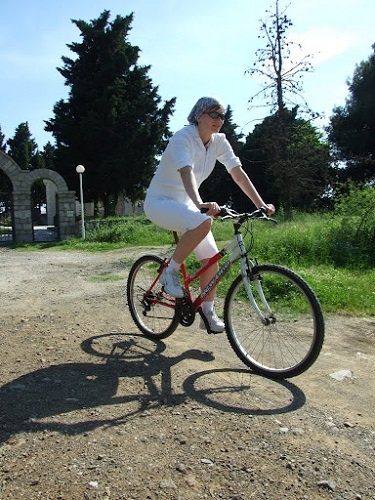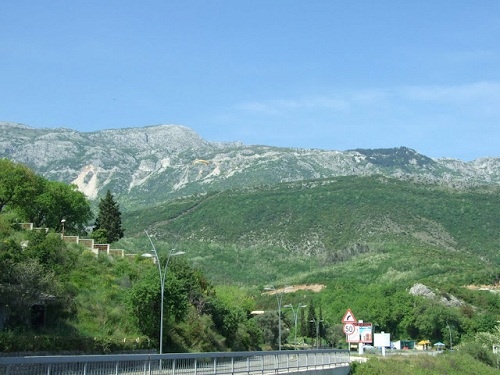 From here we managed to get down to the seafront and continued our way on the narrow, but smooth trail without cars, but with people going here and there. The beaches we passed by were Becici , Kamenovo and Rafailivici :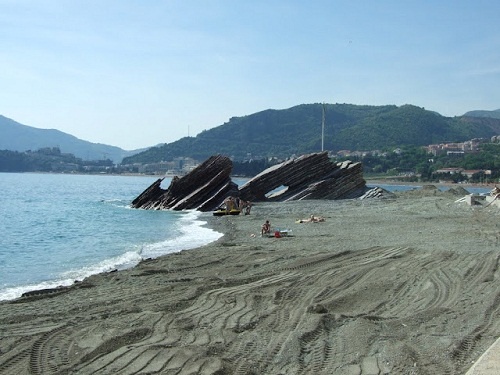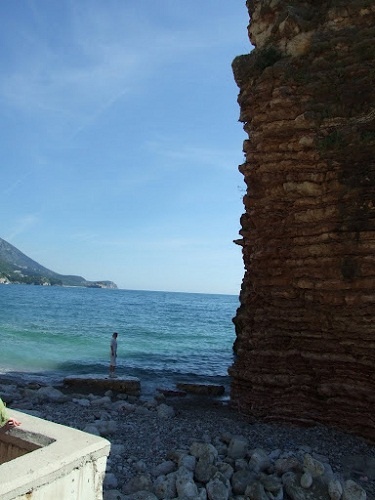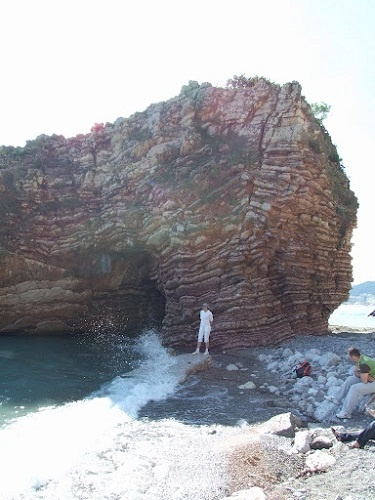 After it we've passed the tunnel and rode a bit further... where the road ended and we've seen the stairs up. This time we had to go up, 'cause the distance was too big to turn back.. It wasn't very nice - to pull the bike through stairs or grass and bushes near them. Finally the road went in forest, but again up the hill, and we were so tired, that thought we have already made 25 km instead of 5.
We've seen fig tree growing young fruits: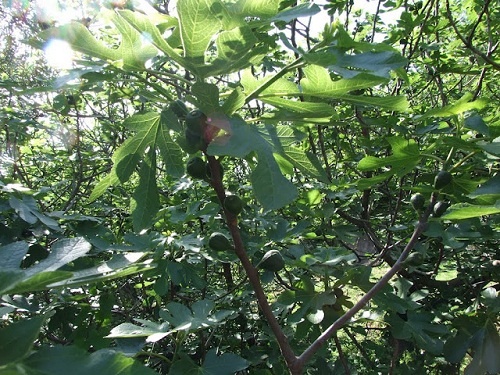 and a huge cactus, after what because of my curiousness I had to pick out Barbs from my palm.
We had little troubles with direction, so ought to use GPS navigator, which showed we're near our goal already, but should get down to the sea. We saw the monument for people of Sveti Stefan, lost in Second World War: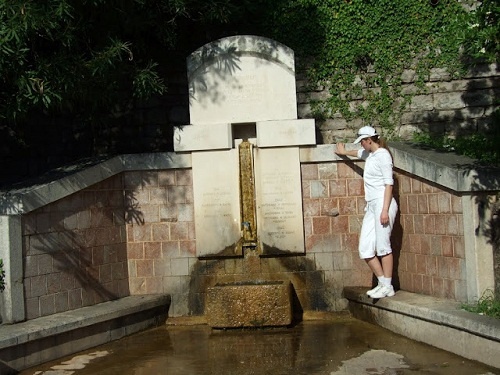 And then we've seen it - beautiful little island, connected to the "Big Earth" by a isthnus: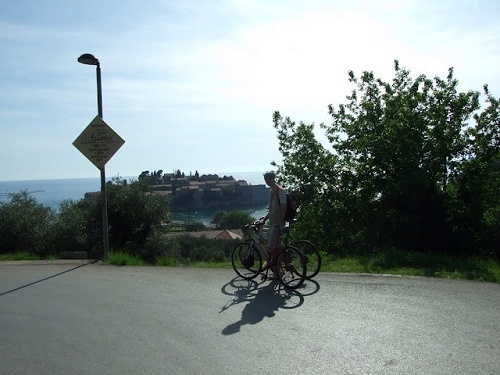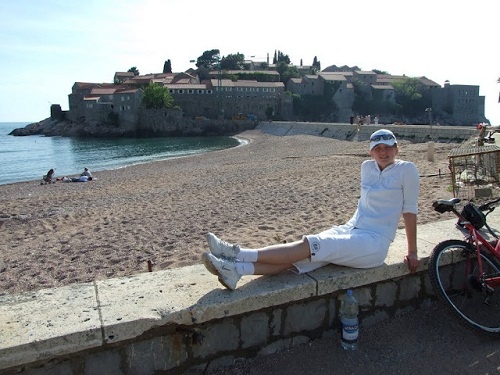 Two hours to make 6-km distance were enough for us to understand, that we're not going to Dubrovnik. We were tired, but happy: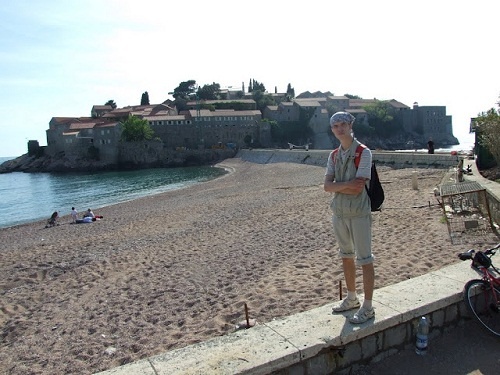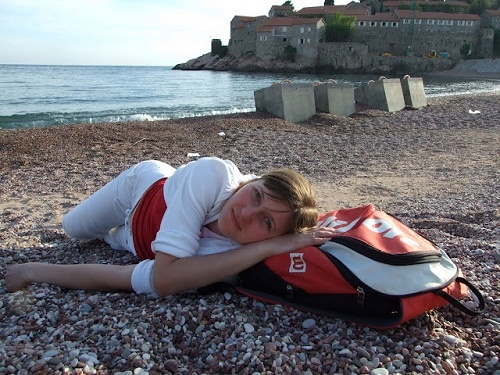 We've found a nice restaurant in a hotel near the beach, ate big portions of salad and meat with potatoes (in Montenegro all portions are huge - after a while we used to order one portion for two of us).
The legs were very tired, pop was rubbed by a bike saddle, but we couldn't think about anything, except that we've managed to get here: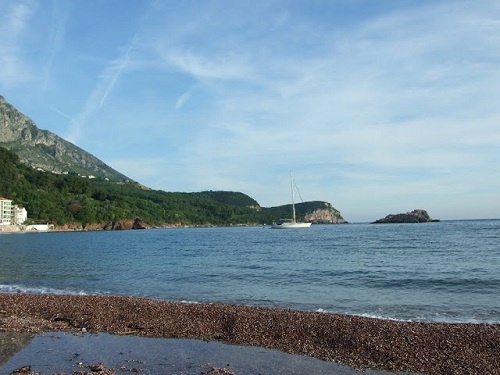 Going back home up and down the hills again we thought only about the rest, and wasted 2 hours back also. In the evening we've drank a glass of wine for the successfull day and planned to go tomorrow to "the famous beach" of Montenegro - Jaz..
http://shortname.ru/montenegro-tour-day-2-part-2-bikes-and-roads.html