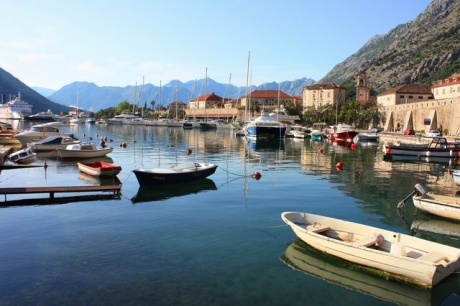 My wife and I visited Croatia, Montenegro and Sarajevo during a 2 month trip in Spring 2010 done on public transport and mostly renting apartments along the way.We stayed in Cres town for a week and walked around Cres in olive groves and forest outside of Beli town. Cres was an absolutely wonderful blend of town convenience and country walks. Beli had better forest walking, but the town is tiny with only 1 restaurant and no market making it less than ideal as a base for folks without a car, but great as a day trip wandering the old trails and abandoned villages. We were amazed by the proliferation of birds in the forest around Beli in the Tramontana region. We were even lucky enough to see a martin, a.k.a. kuna, namesake of the Croatian currency.Paklenica NP was also awesome. We went up the main canyon and once we were above the climber-infested lower reaches, the views were magnificent and the cave was worth the side trip. We went as far as the hut and loved the different forest types. We visited as a day trip from Zadar, a great city with great sladoled (ice cream) and Kornat had food good enough to please even San Francisco- and Melbourne-adapted palates.
Plitvice Lakes was also great hiking. We spent 3 nights there getting all around the lakes and going up into the forest as well. Weak restaurants and markets, but we self-catered and survived ok. The LP book is very weak re: Plitvice Lakes NP, especially when arriving by bus from Zadar. You should get off 1 stop before the NP (about 5 minutes) in Mukinje / Jezerce and find accomodation there. If you go to the park itself, you'll have to schlep your luggage 15 minutes back to Mukinje. The NP info people never responded to my email attempts to pre-arrange accomodation, but the lady at the booth set us up with an illegal apartment (no blue sign) with a broken fridge. Overall it was a highlight of the trip thus far, but the LP guidebook really let us down by not telling us where to get off the bus.We stayed 5 nights in 1-bedroom apartment Aquamarine in Split, at Senjska 47 between Marjan Hill and Diocletian's Palace on a pedestrian street stairway for 290 HK/night. An excellent location above the harbor with friendly owners and free wifi. Aquamarine owners' contact mobile : Suzi 00385 91 784 59 50 & Jakov 00385 91 21 35 977. The diminutive apartment had a little private outdoor garden that was perfect for cocktails, meals, or just chill conversation. ~2 minute walk above the apartment is beautiful green Marjan Hill for hours of strolling in a wooded park and great views over the ocean. There is a cafe there with the best views of Split.Our favorite restaurant in Split by far was Macrovega, a vegetarian / vegan place with a cheap, fresh, changed daily prix fixe menu that was enough food for 2, with 2 fresh juice only ~60 HK. There are also yummy vegetarian and vegan snacks and desserts. It's kinda hidden at Lestina 2, on a pedestrian street between Radomilovica and Svetog Kriza streets. We ate there twice and as foodies from San Francisco, we ranked them as 2 of the best meals in Croatia for taste, variety, quality, value for price, and originality.Self-catering was easy and cheap with a great big open-air market just east of Diocletian's Palace (Stari Pazar) with good fruit, vegetables, cheese, eggs and bakery goods. Also oil and flowers. Stores had reasonably priced beer, wine, and liquor, a favorite being Orohovac, a sweet walnut-flavored liquor by Maraska. Fast food Noni in Old Town had great pizza, fritatta, and sandwiches.
The best sladoled in town was right next door.We took the bus from Split to Dubrovnik that went via the new, incomplete autoput (freeway). Interesting to sail through rural inland valleys on the big freeway with no modern developments like gas stations and restaurants and hotels, but it petered out in Vrgorac about halfway to DBK and we were on slow roads after that. They were working hard though and the full freeway will probably be done soon(?).Dubrovnik was gorgeous, but slightly Disney-fied with the streets clogged with cruise ship and package tour groups during the days and restaurants always hawking for customers. Evenings were grand and more local affairs. We skipped walking the walls as the price was ridiculous (80 HK each). Instead, I highly recommend taking the #17 city bus from Pile Gate up to Bosanka and walking down the old foot road to Dubrovnik (Put Od Bosanke). The spring wildflowers were mind-blowingly gorgeous thanks to a recent wildfire. We also walked from Bosanka up to the old ridge fort and down the zig-zag passion play trail to DBK that ends at Od Kriza, but the best flowers were between Bosanka and the summit cross and Put Od Bosanke. The views of the old town from the hill are also stunning. They were just finishing a new funicular cable car from northeast corner of old town to the summit cross, but it'll probably be more expensive than the #17 bus (8HK from the Tisak).In DBK we stayed 5 nights (65 euro/night) at Apartment Bacio Studio at 21 Svetog Josipa, a nice studio on the top (3rd) floor of an old building in the old town. Owner: Srdjana Jukas +385 98 236 713 email: srdjana_jukas@yahoo.com or Diana at this mobile number 00385(0)915416661. The place was clean and quiet on a stairway above the Od Puca south of the Stradun. We even had a bit of a view out the window over the roofs towards the mountain above town. We picked up free Dubrovnik City wifi from the window as well.We mostly self-catered again, but didn't find a good open air market.
The open air market in the old town was tiny and over priced. We just bought from the Konzum and local stores. We ate out three times, all 3 meals were expensive. Taj Mahal was delicious Bosnian food, Nista was yummy vegetarian with good variety, and nice flavors, but don't expect authentic indian or mexican taste. Both those were in the old town. We were going to try Levanat out at the end of Setalista Nika I Meda Pucica, but the service was rude when we asked for a table so we kept going further to Restaurant Zoe in the Importane Resort. The sunset view from Zoe was perfect (Levanat is around the corner, so couldn't see the actual sunset from there), and the food was wonderful (Roquefort souffle with pears & walnuts, Fuze with Porcini sauce). We refused to buy water, rather insisted on getting tap water, and didn't buy wine, so the price wasn't too bad.After DBK we took a fast catamaran ferry to Mljet Island (Polace town). We stayed 2 nights at a big 1-bedroom apartment with a bathtub and a terrace overlooking the water about 3 houses to the right of the tourist office for 220 HK/night. The owner was Pavla 091 155 0808, a nice young lady who lives just behind the apartment. It was a little noisy right next to a pizzeria and the ferry parked out front, but we loved it for being large, cool, and comfortable. In summer, when the cruise Croatia boats fill the harbor it could be very noisy, 1 boat was blasting music while the clients swam and sunbathed most of the afternoon while we were in town, very annoying. There was 1 grocery store in town, and a bakery for self-catering, as well as several pizzerias and fish restaurants. We ate at the restaurant across from the National Park booth which had a 65HK set meal of soup and salad, entree, and dessert which was pretty good. The National Park ticket is expensive (90 HK) but is good for multiple days and includes unlimited use of a bus service (hourly) between Polace and Pristaniste, and boats between Pristaniste, Mali Most, and Svete Marije Island. The bus was very useful and kept its schedule pretty well. The Park personnel would even call the bus for us if wanted it off-hours. The boats were much less reliable, don't plan your trip around them or you could be disappointed. Our first day the boats kept their schedule, but the second day, a large French tour group hijacked all the boats to move their clients between Mali Most and Svete Marije, so we got stranded for 1.5 hours and missed a bus connection. The boat guys work for the park, but they were doing the bidding of the tour company and screwing all the rest of us park visitors by stopping all boat service between Mali Most and Pristaniste and only taking us from Sv. Marije to Pristaniste after we repeatedly asked. They were jerks about the whole thing and the Park people in the main office just said 'sorry'.
The bus was also hijacked by the big tour group.Hiking around Mljet NP was beautiful, I suggest going up to the Montokuc lookout between Polace and Soline for fantastic views around the island. Take the footpath from Polace by the NP info booth and head for the Montokuc, then descend to Soline and continue to Pristaniste for the bus back to Polace. Take a digital photo of the large map sign if you want to know where the trails are. Trail marks are ok, but not perfect. Flowers and trees were wonderful and the lagoon waters were gorgeous. We also took the NP bus from Polace to the turn-off for Govedari and walked through Govedari to Babine Kuce, then to Mali Most, around the south side of Veliko Jezero to Zakamenica where cliffs plunge into the sea and you get nice views of Svete Marija.From Mljet we went back to Dubrovnik where we slept in a granny sobe in Gruz for 200 HK. Next morning we caught the bus to Kotor. Kotor was a huge pain in the butt to find accommodation. The tourist office had a brochure, but the listings didn't have exact addresses and contact was via phone or email, no good for on-the-spot searches. Old town has no sobe signs so finding rooms and apartments requires an agency. Meridian was helpful, but only had 1 budget apartment and it was out of town in Dubrota. Dubrota is probably a good location in summer when the old town is super noisy at night, but in June the old town wasn't too noisy. Turizm offered us a small cave studio apt. with modern furnishings and bathroom in a nice quiet building with access to the city wall just inside the south gate for 40 euro/night. If you find a place through an agency, only book 1 night, then negotiate with the owner for a lower price for additional nights. We got our studio for 30 euro/night when dealing with the owner directly. The agencies take a large commission. The 2 places we looked at offered by hawkers at the bus station were nasty, awful places.Kotor has a great open-air market outside the city walls with delicious produce, meat, and cheese, but prices are a bit high. A supermarket between the bus station and old town had package food and drinks. We ate out at Pizzeria Piazza which had much better Pizza than we found in Croatia. Free wifi also available in the Trg and they played the World Cup matches on a projection screen each night. Sadly, the sladoled in Montenegro is nothing near as good as in Croatia. Croatian sladoled is like gelato, creamy and scrumptious. MNE sladoled is factory-made ice cream, not very good.In Kotor, we walked up the ladder of Cattaro which begins at the bridge across the river outside the north gate. It was 4 hours from Kotor to the ridge above town where the conifer trees started and back again, but the views were superb and the spring wild flowers were fantastic. Make it a 6 or 7 hour hike and you would get into lovely forests and streams of Lovcen NP.We bussed to Cetinje from Kotor. We stayed at Pansion 22, planning to stay 2 nights and hike into Lovcen but left after 1 day because the town had no water all afternoon, and the owners were rude. The rooms at Pansion 22 were very over-priced (listed at 40 euro per night for just a double room; we negotiated down to 30), had no air conditioning, and no water. If the owners hadn't been so rude about the water situation and had much lower prices (closer to 20 euro for a double room) we would stay there, but as it was we bailed and would discourage others from staying there. Unfortunately, they have a near monopoly on accommodation in Cetinje.
The town center itself is quiet, pleasant, has a nice pedestrian street lined with cafe-bars and pizzerias, neat buildings, and gorgeous natural surroundings. A local said we could walk a trail from town (marked trail on road to Lovcen near the first turn) to the peak of Lovcen (Njegos mausoleum) in 2.5 hours. The Njegos mausoleum is clearly visible from Cetinje. The Danila mausoleum overlooking Cetinje has great views after a 15 minute walk up from the center of town.From Cetinje, we took a bus to Kolasin. Kolasin is wonderful, our favorite place so far in Montenegro. Spectacular mountain landscape reminiscent of Switzerland. We stayed 5 nights in Apartmani Radovic, a large studio on a quiet street very close to downtown for 25 euro/night (negotiated down from 30). The Kolasin tourism office (Turisticka Organizacija Kolasin) on Mirka Vesovica north side of Trg Boraca is awesome. Niko and the team are very helpful and knowledgeable, particularly about hiking and biking.
Email for Niko is nmedenica@gmail.com or tokolasin@t-com.me. Mobile +382 69 035 640. The giant wooden tourist office built by the Austrians and seen as you enter town is closed and useless.Vodenice restaurant has fabulous Kacamak and lamb for reasonable prices. Stores in town have produce, etc. for self catering and there is also a bakery. We walked from Kolasin to Ogorela Glava then down past Katun Potoci to Rijeka Musovica in about 7 hours. The dirt roads are well-marked as hiking trails, but single-track trails are generally poorly marked. Buy the Bjelasica and Komovi 1:50,000 map to navigate (3 Euros from Niko). We also took a bus to NP Biogradska Gora turnoff and hitched a ride to the lake. We hiked from the lake to Bendovac and retraced our way back down in about 4 hours including a long lunch break at the magnificent lookout at the top.Sarajevo was the friendliest and most engaging people of the 3 former Yugo republics we visited. The people on Croatia and Montenegro were typically uninterested in us, but the Sarajevo people asked us where we were from and were generally more friendly. Great food also in Bosnia.
http://www.lonelyplanet.com/thorntree/thread.jspa?threadID=1988522